The community has spoken and the newly released agenda 1.0 reflects the interests and concerns of our members. Once you've viewed the details you'll see that OSIsoft vCampus Live! 2010 will cover a wide range of topics about creating PI System-based solutions for your key business challenges. Click here to review the agenda and register now.
Learn How to Convince Your Boss that You Should Attend this Event!
Watch Steve's Video Below: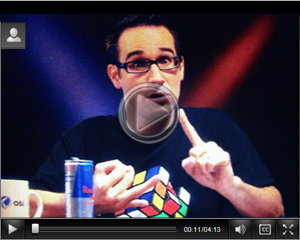 Use the PI System to Meet Your Company's Business Challenges
Each year, we plan OSIsoft vCampus Live for people like you, the ones who design, develop and configure the solutions and applications that make the most of a PI System. This year's agenda focuses on technology topics vital for integrating the PI System into your business operations. You'll also learn what's coming out from OSIsoft, since technologists like you need to be ready to advise business decision makers on future technology investments.
Network with PI System Experts
We designed the OSIsoft vCampus Live schedule so that—besides multiple networking opportunities—you can attend open sessions with your peers, with the OSIsoft development staff, with OSIsoft Product Managers and the whole Virtual Campus team—the people who can answer the hard questions.

With optional Hands-On Learning Labs before and after the main event you get unique access to our complete suite of products and key technical resources.
Save Money
If you are a member of the OSIsoft Virtual Campus—our online community—you automatically get a reduced registration cost. And remember—if your company has an Enterprise Agreement (EA) with OSIsoft, you can apply EA credits toward event registration.
A Final Note...
If your company needs to answer questions about the best way to implement PI System-based solutions, if you're looking for technical direction and networking with OSIsoft and the rest of the community, or if you have questions about implementing the PI System or about integrating the PI System into corporate operations—then you need to join us live in San Francisco.
Event Location & Registration:
The event will be held in the Palace Hotel, one of San Francisco's historic luxury hotels, which—besides its beautiful historic ambience—offers full, high technology conference facilities with broadband connectivity throughout the hotel.
Event Location:
Palace Hotel
2 New Montgomery Street
San Francisco, CA
94105 - USA

Event Date:
September 13-14, 2010
[REGISTER HERE]
We hope to see you in San Francisco in September!

The OSIsoft vCampus Live! Team
Thank you to our Platinum Sponsor: