Costs continue to escalate at alarming rates for cell and gene therapies. Tokio Marine HCC – Stop Loss Group (TMHCC) offers a solution to manage these high-cost events. TMHCC has partnered with Emerging Therapy Solutions (ETS) for a best-in-class service to positively impact the plan and patient.

What is the difference between Cell Therapy and Gene Therapy? Cell Therapy is defined as the transfer of live cells into a patient to lessen or cure a disease. The cells may originate from the patient or a donor. Gene Therapy involves replacing a missing or mutated gene in the targeted cell to treat or cure a disease. This new gene can then help correct the missing functionality.
Another difference between Cell and Gene Therapies is the average cost range and makeup of their typical claims. Cell therapies cost anywhere from $700,000 to $2,000,000, with the cost split roughly 50/50 between therapy and general medical charges. Gene therapies, on the other hand, have a higher cost range of $950,000 to $3,300,000, with the therapy typically accounting for 90% of the total cost.*
ETS currently offers 5 Cell Therapy and 2 Gene Therapy cost management opportunities. Click on each one to learn more about each of the therapies, including the disease targeted, the course of treatment, the population impacted, and the estimated costs.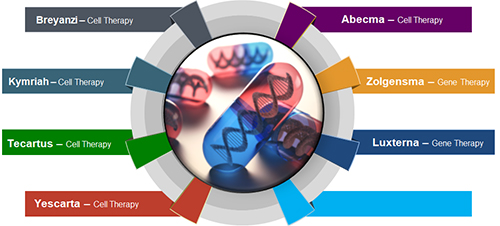 Also highlighted are ETS's services, including forecasting of emerging therapies, expert content, physician review, programs of excellence, and referral support.
Please contact your regional marketing representative to learn more on how TMHCC in partnership with ETS can positively impact your clients' healthcare plans.

TMHCC has been helping protect self-funded plan sponsors from catastrophic claim events for over 45 years. Rated A++ (Superior) by A.M. Best Company, A+ (Strong) by Standard & Poor's, and AA- (Very Strong) by Fitch Ratings, TMHCC is a leading provider of medical stop loss coverage provided through brokers, consultants, and third-party administrators. By listening to the demands of the market, we have developed exceptional products, unparalleled resources and value-added services that set us apart in the industry. Visit our website to learn more about our innovative stop loss, Taft-Hartley, captive and organ transplant solutions.
*Estimated cost ranges provided by ETS.