Having trouble viewing: View in browser


June 2023
The Insider
News and updates for employers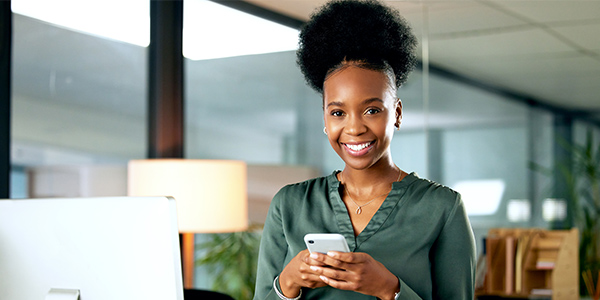 The value of employee engagement
Your company makes a significant investment in health care benefits and other programs on behalf of your employees. That's why it's important to ensure that employees understand and use their health benefits in a way that supports their health and well‑being. This is where employee engagement comes in.
When your employees opt in to receive messages from us via email or text, we can help them live their healthiest lives and lower costs for you and them.
Unhealthy employees can hurt a healthy bottom line
Unhealthy employees can have a profound impact on workforce productivity, engagement, and ultimately your bottom line. Poor health results in a $530 billion loss in employee productivity annually — $198 billion of that can be attributed to chronic health conditions.
What's even more concerning for employers is that chronic conditions, such as hypertension, diabetes, and behavioral health conditions, result in 1.4 billion days of absence and illness‑related lost productivity annually.
Maximizing your benefit investment through data‑driven engagement
Employee engagement is about anticipating and avoiding poor health before it happens and, most importantly, it's about empowering employees to make healthier decisions that could result in a better quality of life. We take a hands‑on approach to creating and implementing effective engagement strategies that deliver real results for you.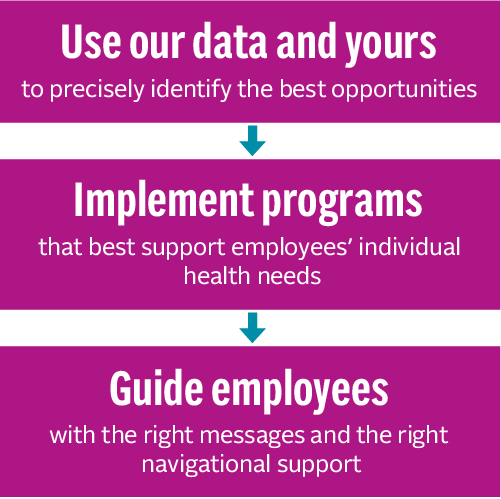 Reaching members where they are
When members opt in to receive digital messages via text and email, we tailor the information we send based on the needs of each individual employee to help them get or stay healthy.

We also offer an easy-to-use website with helpful tools and resources that make it easy for members to get the care they need, such as the Find a Doctor tool and the Care Cost Estimator.
And for members who need more personalized care, we promote the availability of our case managers, who can help them manage their health conditions. In fact, our data shows that members who are digitally engaged are 45 percent more likely to speak with a case manager.
Guiding employees to the right care
Our engagement strategy helps create a positive experience for your employees and drives better health outcomes by enabling them to:
Better understand and maximize their health benefits

Make informed health care decisions

Improve their health and well‑being

Easily use self‑service tools and resources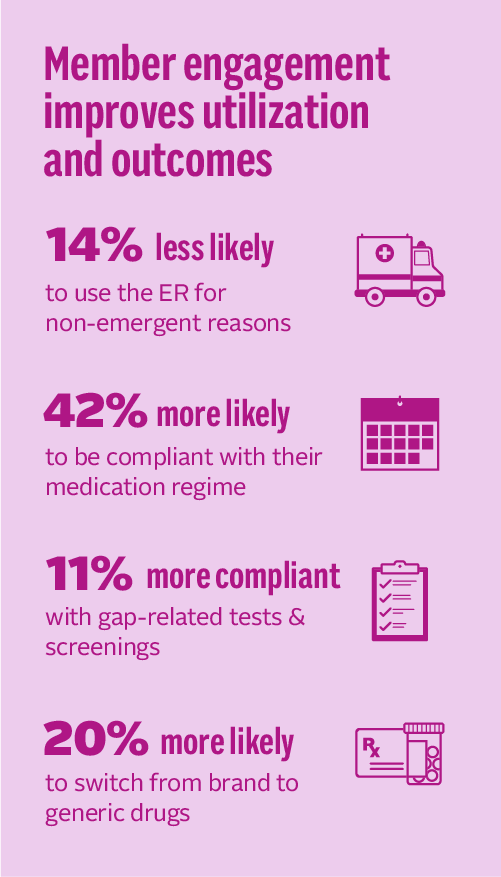 For more information about how you can improve engagement among your employees please contact your account executive.

GradFin student loan debt reduction solutions are available as a value‑added program at no cost for you! Services from GradFin can help your employees and their families find the best strategies to save for college while reducing their student loan debt.

It's more important than ever to safeguard your online health. Learn about how choosing strong passwords and being mindful of what you share online can help protect your personal information as well as your mental well‑being.
---

Healthy You! is a monthly newsletter of reliable health information designed to educate, engage, and enlighten. Featuring information on trending topics along with nutritious recipes, Healthy You! can be used to encourage better health among your fellow employees and their families.

©2023 AmeriHealth Administrators, Inc. All rights reserved.
1900 Market Street, Suite 500 | Philadelphia, PA 19103
If you received this email in error, or do not wish to receive future emails from us, unsubscribe %%$email%%.
View the AmeriHealth Administrators Privacy Policy